Boxed Puzzles
We focus on producing full-color, high-quality jigsaw puzzles of your templates, logos, graphics, or team photos. Puzzle with a stable two-part box is suitable for retail, exhibitions and fairs, competitions, training courses, brand promotion, awards. Ideal also for foundations and charities.
Specifications:
Small box 23 x 14,5 x 3 cm (9" x 5 1/2" x 1")/for puzzle sizes 24 - 48 pieces/
Big box 35 x 22 x 4 mm (14" x 7" x 2")/for puzzle sizes 100 - 2000 pieces/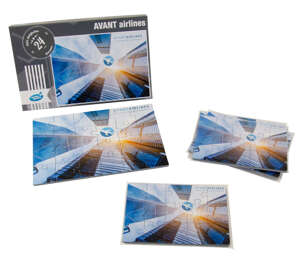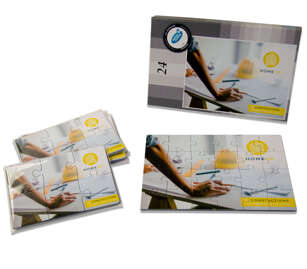 Puzzle Postcards
A puzzle postcard is an A6-sized puzzle assembled on a cardboard backing and the entire puzzle set is packed in cellophane sleeve with a seal strip on the back. Each postcard set contains a free elegant envelope. Suitable as a promotional gift or item, direct mail marketing.
Specifications:
Envelope size: C6

Puzzle size: A6 4" x 6" (103 x 147 mm)
Number of pieces: 6 pcs, 15 pcs